The 2018 Auckland Chess Centre Club Champs is across 9 rounds in June though August. The A and B grades are 10 player round robins while the C grade is a Swiss ( with just over 60 players). All Grades are NZCF rated while the A and B grades are FIDE rated.
Club Champs 2018 – Round 8 PGN by Ewan Green
Vega Links: A Grade, B Grade, C Grade
A Grade
John Duneas vs Gordon Morrell – White tried an unusual line ( 6. Qb3 in the Queen's Gambit) that seemed unpromising. A couple of moves later Black picked up an pawn and then press to win. 0-1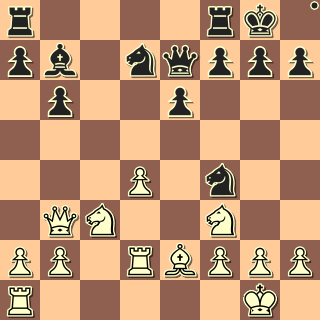 Ben Hague vs Allen Fan – White mounted an aggressive attack and ended up several pawns up in the endgame which was more than enough. 1-0
Alexei Kulashko vs Michael Steadman – An unusual opening line. Black resigned on move 13 after miscalculating a tactical sequence. 1-0
Daniel Gong vs Paul Garbett – White got a small advantage but soon lost it. The players swapped pieces and agreed on a draw.
Bruce Watson vs Alphaeus Ang – White got a small advantage but soon lost it. The players swapped pieces and agreed on a draw.
After this round Alexei Kulashko was in the led on 5.5 over a point ahead of several other players (Ben Hague played some catchup games to being himself into second).
B Grade
Simon Lyall vs Nicole Qin – White got himself in trouble and then lost a piece to a passed pawn in the endgame. 0-1
Paul Macdonald vs Tim Ha – White made a strong attack from the start and rolled over Black. 1-0
Nathan Goodhue vs Joy Qin – White was better in the middle game and ended up with a slightly better endgame position which has was able to exploit to pick off Black's pawns. 71 moves. 1-0
Alex Nagorski vs Roy Seabrook – Another long game. White game up a pawn for a passed-pawn but white was able to hold it and then use his material advantage to get a pawn of his own though to the 8th rank. 0-1
Caroline Yan vs Don Eade – Black made a tactical mistake and lost material during a middle game. 1-0
Nathan Goodhue continued his streak of Wins to stay a point ahead of Paul Macdonald.
C Grade
Leader Euan MacDougall won to keep his lead. He is on 7 while Felix Xie is on 6.5 and several players are on 5.5
Biggest upsets:
Felix Xei beat Xingyang Liu
Isabelle Ning beat Aaron Wang
Mathew Steadman drew with Andrew Michael