The last round of the 2017 Autumn Cup was played on June 12th. Going into the round A grade had 6 players in contention (Alphaeus Ang half a point ahead of 5 others), while in B grade just two players had a chance of winning. Next week the Club Champs will start.
I'll post a summary of the Autumn Cup results in another post.
Autumn Cup round 7 PGN by Ewen Green and Tim Ha.
A Grade
Gong v Ang – After a sedate start White tries 7 d4 to liven things up without success, however a few moves later Black allows white some play and white sacrifices and exchange for good mobility and threats. After 20 movies of maneuvering black makes a mistake and allows and mating net. 1-0
Fan vs Hague – Black gets a huge attack in the middle which white somehow manages to survive. They swap to an endgame with Black having a Rook vs Whites with 2 Knights (plus some pawns each).  Then Black gives up his Rook to leave Black with just won pawn and White with 2 Knights. Close to the end White even had a theoretical win but played a different move and the players took the draw.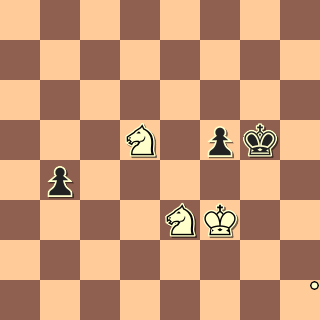 Watson vs Jasmine Zhang – After coming under pressure Black lost her Queen and two pawns for 2 rooks. White swapped Queen and rooks back but blew his advantage. However after a miscalculation Black was in a King and pawn endgame with her King on the wrong side of the board. 1-0
Goodhue v Morrell – A complicated game. White had a cramped position that Black took a while to crack. 0-1
Duneas vs Rodney Li – While lost a pawn in the early middle-game and was working to hold the game after giving up another and then a third. White missed a chance to force a draw but Black kept swapping material until his pawn advantage allowed him to promote. 0-1
Ha vs Nagorski – Black picked up a couple of pawns early in the game though holes in White's defense. Black sacrificed a rook for a mate but took a draw when it didn't quite work. Draw
Nicole Qin vs Leo Zhang – After an even looking opening Black picked up a pawn and then pushed a passed pawn which won pieces. 0-1
Wells vs Wu – Black mounted an attack down the C-file which picked up a pawn and then a piece. 0-1
Jacobs vs Caroline Yan – A color-reversed Queens Gambit. Black pushed hard to get an advantage and wore white down till he crumbled. 0-1
Milne vs Ward – A good opening from black picked up a pawn although white was better developed. After a tactic white got a huge attack however which escalated into a mate. 1-0
Eade vs Sarah Yan – Black got better of the opening, picking up a pawn. White played a tactic which got it back though the tactic was unsound so he was a little lucky. Both players then missed some tactics and eventually agree on a draw.
Michael vs Lui – White had a good start but lost a pawn in the early-middle game. Black maintained a slight lead after that and when things eventually swapped in the endgame was enough ahead to win. 0-1
Oscar Qin vs Peak – Black improvised in the opening but came out okay. White pushed his kingside pawns but left his position a little vulnerable while black's Queenside pawn push cramped White. Black picked up an exchange and his advanced pawns caused problems for White until he was a piece ahead. 0-1
Wang vs Steiner – A lot of tactical threats and mistakes throughout the game. Eventually Black won. 0-1
Euan McDougall vs Yu – Black made an error in the opening and lost a pawn. Some slow play by both players afterwards until Black got the pawn back. The players swapped to an even rook and pawn endgame but Black made a couple of mistakes and lost. 1-0
B Grade
One the top board the Leaders Erica Hu and Toby Zhang drew.
Top upsets were
Jeffery Yu beating Abraham Deng
Shawn Hui drew with Jacob Chai
Erica Hu drew with Tobdy Zhang
Winson Weng beat Felix Xie