The first round of the club champs started with a huge number of upsets in the A and B grade. Of the 10 games only 1 was run by the higher rated player, 4 were draws and 5 were won by the lower rated.
A reminder that the New Zealand Junior Championship and the North Island Championships tournaments will be played at the club during the July School Holidays. Entry forms are on the New Zealand Chess Calendar page
Club Champs Round 1 PGN by Ewan Green
A Grade
Gong v Duneas – White quickly moved off opening theory and gave Black a good start. Some 30 moves of sharp tactics followed with Black having the better attach but his king being open if he allow white time. White eventually force a draw.
Hague v Fan – In this game Black wandered off standard lines and was behind after the opening. After some great tactics white ended up well ahead in material and Black resigned. 1-0
Zhang v Watson – A fairly even start but black opened up the position when White had two nicely placed Bishops (vs Black's 2 Knights). White then broke up the pawns in front of Black's king to attack while Black's pieces were on the wrong side of the board. 1-0
Morrell vs Ang – Black unwisely advance the pawns in front of his King when White had castled the other side and was already lining up an attack. He survived the attack but White swapped down to a winning endgame. 1-0
Goodhue v Steadman – After an almost-conventional opening the players were fairly even for most of the middle game. Black ended up a little better however after some swaps. However White was able to even things and the players agreed on a draw.
B Grade
Qin v Ha – After a good start White got herself stuck behind the central pawns. Blacks pieces had more freedom and he picked up an exchange, then a pawn and then some central passed pawns pushed White back to her back rank. 0-1
Ward v Peak – After a fiery opening ( Goering Gambit, double pawn sacrifice) white kept up the pressure on Black but black managed to defend well. The players abruptly agreed on a draw with black ahead but lowish on time. Draw
Brimble v Yan – A cramped opening. White looked better due to a big hole in Black's position exposing her King.  Black forced a swap of some major pieces which evened up the position. White then gave up a piece and a few moves later Black Queen'd. 0-1
Nagorski v Lyall – Black made some mistakes after the opening and white obtained some pressure. White managed to lock up the position and it was eventually a draw although both players missed chances. Draw
Wu v Eade – White managed to get rid of a couple of Black's kingside pawns to give him some holes to attack though. Black was keen to attack however and unwisely moved his Queen away from defence. This allowed White to spring a quick mate. 1-0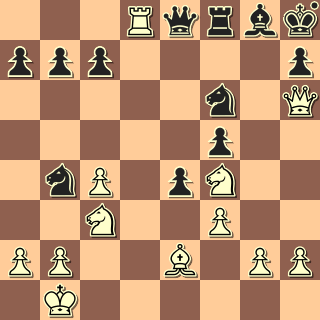 C Grade
There were relatively few upsets in C grade due to large rating differences in the first round. However:
Winston Weng beat David Xu
Jeffrey Yu beat Isabelle Ning
Abraham Deng draw with Mike Steiner