The start of the school holidays saw a few players away this week. The holidays also see 6 tournaments being played at the Club as part of the New Zealand Junior and North Island Championships.
A draft list of rules has been published for the Monday Night. Feedback is welcome.
Club Champs round 4 PGN by Alex Nagorski and Tim Ha.
A Grade
Duneas vs Ang – not played
Gong vs Morrell – Not played
Ang vs Gong – Later round played early. Won by Ang, details when we get to that round.
Watson v Steadman – Black plays his usual Dutch. A fairly even game with players steadily trading pieces. An endgame with a rook, knight and 5 pawns was reached with each player have a 3:2 pawn advantage on one sides.  The players maneuvered for 20 moves before Black made a mistake that lost a pawn and resigned. 1-0
Fan v Goodhue – White seemed to get the best out of the opening and early game but was unable to improve his advantage. By move 30 Black was a (passed) pawn up but White managed to force perpetual check. Draw
Hague vs Zhang – An interesting opening with White giving up two pawns in return for a large development lead. One simple mistake later and black was completely lost as his uncastled king came under an attack by all Whites pieces. 1-0
Ben Hague is currently in first place with 4 wins out of 4 games. However there are several games unplayed by others.
B Grade
Ha vs Lyall – White lost a pawn soon out of the opening but Black made a dubious exchange sacrifice. After the dust had cleared White had a rook and two pawns vs Blacks Knight and 6 pawns. Black lost their nerve and offered a draw however rather than try and convert. Draw
Yan vs Eade – Black gained a good position out of the opening threatening to sideline White's Queen but allowed a Queen swap which neutralized his advantage. White made some favorable exchanges and Black resigned in a position dominated by Whites pieces. 1-0
Peak v Wu – Black gained a slight advantage in the Opening but nothing decisive. For the 4th game in a row White managed a draw (this time after 25 moves) against a higher rated opponent. Draw
Qin vs Nagorski – Queen's Gambit accepted but White came out a pawn ahead!? White slowly pressed her advantage while Black tried to hold the position. White got another pawn to be two up with only a Rook and Queen each. But an error allowed Black to force a draw.
Ward vs Brimble – Early pressure by Black turned into a counter-attack by White. White then seemed to have the advantage as both players moved their pieces around an open centre. Eventually Black lost a piece and resigned a few moves later.
Caroline Yan and Keith Ward are leading the grade on 3/4 with a few others just behind.
C Grade
A Wang vs Seabrook – Black got a more active position and picked up a pawn with a cute tactic (see diagram). Black then swapped pieces gain 2 more pawns in the process. Black then pushed more pawns in a rook+pawn endgame than White could stop. 1-0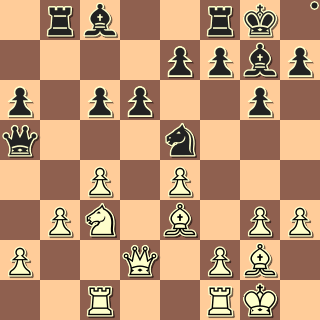 Oscar Qin vs Sarah Yan – White was better for much of the game but the players agreed on a fairly early draw.
Louie Wei v Xinyang Liu –  1. d4 Nf6 2. f4?! is apparently a real opening, although with only 230 games and a 34% success rate in my database. The players then ignored each other for 10 moves while their put their pieces on nice squares. A few moves later White made a mistake and Black picked up a piece or so. 0-1
Upsets in Round 4:
Isabelle Ning beat Virginia Milne
Samuel Sajch beat Brian Zhao
Eric Liang beat Ying Wang
The leader is Roy Seabrook on 4 points with Sarah Yan, Oscar Qin and Xinyang Liu on 3.5