Just two more weeks of Club to go this year.
2018 Spring Cup R6 PGN by Tim Ha.
A Grade
Alphaeus Ang vs Daniel Gong – White had a better position at times but was unable to exploit it and the players swapped to a Draw.
Paul Garbett vs Ben Hague – Black mounted an attack on White's King. White defended well but decided to take a draw rather than continue. Draw.
Bruce Watson vs Mike Steadman – White game up a pawn in return for a great outpost Knight. But he failed to find the best continuation and his advantaged petered out in a sharp position. Black managed to force a perpetual check. Draw.
Nathan Goodhue vs Alex Huang –  White allowed a couple of holes in his position. A mistake allowed Black to exploit them and get a couple of rooks on the 7th. 0-1
Paul Macdonald vs Allen Fan –  See Paul's extensive annotations of this game in the PGN. A sleepy Black got ahead but made a couple of major mistakes that game White a mate. 1-0
John Duneas vs Don Eade – White sacrificed a piece for an attack but allowed White to wiggle out in a complex position. White then swapped a couple of attackers and picked up another piece. 1-0
Tim Ha vs Jordon Lewis – Black put white under pressure but white managed to hang on. However White sacrificed a rook for an attack that turned out not to be sound. Black found a nice tactic to win a couple of moves later. 0-1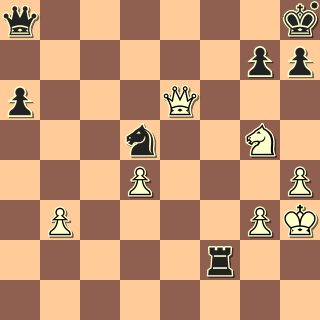 Alex Nagorski vs Simon Lyall – Black picked up an early pawn and the players went into some sharp tactics. Black emerged an exchange up and was able to consolidate his lead. 0-1
Upsets in Round 6:
Simon Lyall beat Alex Nagorski
Paul Macdonald beat Allen Fan
Three draws on the top three boards just further squeezed the field. Three players are on 4.5 and 2 more on 4 points.
B Grade
Stephen Peters vs Virginia Milne – White got lost in his (gambit!) opening and then resigned after losing a piece. 0-1
Arkadi Polyakevich vs Jeffrey Yu – White lost a piece in an opening trap and was unable to recover. 0-1
David Ansell vs Boyuan Zhang – Black was better though most of the game. After White gave up a piece for two pawns Black had little trouble mopping up. 0-1
Isabelle Ning vs Aaron Wang – White mounted an early attack on Black's King which looked dangerous. But she feel into a pin and lost an exchange. 0-1
Upsets in Round 6:
Lakshmi Ravi beat Hugh Gao
Erica Hu beat Priyanshu Pattani
Jeffrey Yu beat Arkadi Polyakevich
Boyuan Zhang beat David Ansell
Jeffrey Yu and Virginia Milne now lead the grade on 5 points. 3 other players are just behind on 4.5