Coming up:
October 20-22 – Merv Morrison weekend tournament
October 22 – No Monday Club Night
October 29 – Round 1 of the Spring Cup
The ACC Winter Cup is two rated Swiss grades over 7 rounds.
2018 Winter CUP R7 PGN by Alex Nagorski and Ewan Green with help from Paul and Simon.
A Grade
Paul Macdonald vs John Duneas – See Paul's annotated in the PGN for the full details. White got a huge attack against Black's King and accurate play by White and some inaccuracies by Black secured the win. 1-0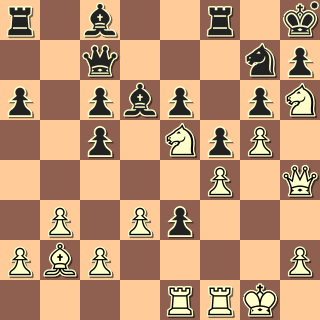 Allen Fan vs Alex Nagorski – White picked up an early pawn and after some swaps ended up with a mate threat which forced Black to give up a piece. 1-0
Gordon Morrell vs Nathan Goodhue – White was a little better though most of the game. He resigned when Black got a breakthrough in the endgame, although the computer claims the position is a draw. 0-1
Alphaeus Ang vs Roy Seabrook –  Pieces and pawns were exchanged as the players sent expeditions into each others ranks. Black missed a tactic and resigned when he lost a piece (see diagram). 0-1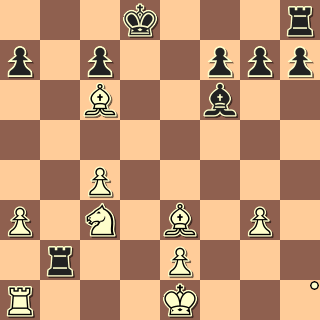 Tim Ha vs Sarah Yan – White got some pressure but missed the best continuation and Black locked the position. White then sacrificed a piece for two pawns but gained nothing. Unfortunately Black allowed a perpetual check in an otherwise won position. Draw
James Liu vs Simon Lyall – Both players played a little passively. Black tried an attack but it petered out and they agreed on a draw.
Winston Weng vs Abraham Deng – A fairly even game with. Black resigned when he had a piece trapped. However he had a way to escape and keep himself in the game. 1-0
Daniel Gong vs Arkadi Polyakevich – White launched an attack against Black's Castled King and Black made a couple of mistakes. 1-0
Aaron Wang vs Rodney Li –  The players agreed on a draw in a sharp position. Draw
Andrew Michael vs Caroline Yan – White launched an aggressive attack but over-reached and trapped a piece. 0-1
Don Eade vs JC Mullage – A natural looking move by Black allowed White to threaten a pin on Black's Queen. White picked up two pawns and Black resigned a few moves later with more loss imminent. 1-0
Jordon Lewis vs Philli Park-Tamati – White got a pawn down an offered a repeat of moves, Black accepted. Draw
Stephen Peak vs John Packenham – White kept up a steady pressure and eventually picked up a couple of pawns and then a piece. 1-0
Virginia Milne vs David Ansell – White got away with some unsound tactics when Black missed the best replies. 1-0
The final result was:
1st equal on 5.5: Allen Fan, Paul Macdonald and Nathan Goodhue
4th on 5.0: John Duneas
5th equal on 4.5: Alex Nagorski, Alphaeus Ang, Winston Weng.
B Grade
Anya Thurner vs Boyuan Zhang – After quickly swapping material the players agreed on a draw in an equal endgame.
Jason Huang vs Ariel Patdu – White resigned after losing a couple of pawns. 0-1
Upsets in Round 7:
Erica Hu beat Ying Wang
Hanna Xu beat N L Ravi
Final Result:
1st on 5.5 points: Anya Thurner
2nd = on 5 points: Joe Wang, Boyuan Zhang, Ariel Patdu and Tom Fu.