Just one more round to go. Some notices:
1. Due to a cricket match at Eden Park on March 26th there is no parking on the street near the Club. Please park elsewhere (or if early you might be able to park inside the club).
2. Club fees are due this week. Please pay or arrange payment with Mike Steadman.
3. Next week (Monday the 2nd of April) is Easter Monday so the club is closed
4. The Autumn Rapid will start on the 8th of April. Make sure you register to ensure you get in.
2018 Summer Cup Round 6 PGN by Ewan Green
A Grade
Paul Garbett vs Ben Hague – Black was a little better but was unable to make progress. Draw
Alphaeus Ang vs Michael Steadman – The computer suggests White could have sacrificed a piece for 3-4 pawns and a great position on move 14 but white played another move and black equalised. Players agreed on a draw in an equal position.
Alexei Kulasho vs Daniel Gong – Black was looking much better in the middle-game as he went two pawns up. But he realized too late that White had a dangerous attack against his king and White was able to force a mate. 1-0
Gino Thornton vs Bruce Watson – Swaps left White a pawn better in the endgame but with pawns on the wrong colour and opposite coloured bishops a draw was agreed.
Going into the last round Hague and Kulashko lead on 4.5 while Ang has 4.0
B Grade
Paul Macdonald vs Leo Zhang – Black got a nice advanced Knight on g3 and then found a nice win (see digram).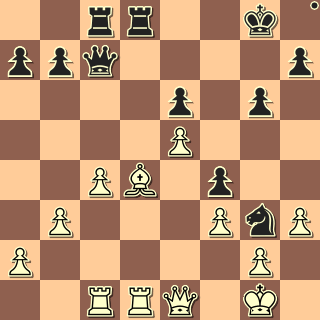 Qe-Li Kong Lim vs Erwin Koestano -Black look better throughout and eventually won.
Alex Nagorski vs Nathan Goodhue 0 See commentary from Alex in the PGN – A long game but fairly even throughout. Black briefly had a advantage with a passed pawn but failed to find the best continuation. Draw
Allen Fan vs John Duneas – Draw
John Duneas and Alex Nagorski are on 4.0 and Nathan is on 3.5 with John having a game in hand.
C Grade
Simon Lyall vs Caroline Yan – The game quickly swapped with 3 pieces and 6 pawns each with Black looking better. But black gave up her good piece and white was able to pick up a pawn for a winning endgame. 1-0
Roy Seabrook vs Don Eade – White harassed Black with a pawn push on the King side and picked up a piece, then after Black gave up his Queen for two rooks White managed to fork one of Blacks rooks.  1-0
Simon Lyall is on 5.5 ahead of Nicole Qin and Roy Seabrook. Nicole was previous in the lead but has on rounds 5 and 6. Roy has had 3 wins after a two early loses.
D Grade
Euan MacDougall vs Jame Liu – White missed the best moves under and attack from Black and ended up in trouble. 0-1
Sarah Yan vs Mathew Steadman – After a swap-off the players agreed a draw.
Arkadi Poliakevitch vs Andrew Michael – White missed the win in a complex Mexican-standoff. Black got a winning king and pawn endgame and then was a little loose playing it, but White failed to find the drawing move. 0-1
Upsets in Round 6:
Philbert Zhai beat Philip Te Whata
Tom Fu beat David Xu
Kendrick Zhang beat Tody Zhang
Rosa Ryu beat Selena Xi
With the loss by Euan McDougall there are 3 players in the lead on 5.0 Euan, Jame Liu and Jordan Lewis. Just behind on 4.5 are Sarah Yan, Mathew Steadman and Andrew Michael.