With just two rounds to go A & B grade as still close due to losses by the leaders.
A reminder that if you are in a round-robin grade you need to arrange with your opponent if you can't make a game and also let Simon know. Try not to leave things until Monday afternoon.
Sign-ups have started for the Autumn Rapid. We will also have signups for Interclub and the Autumn Cup soon.
2018 Summer Cup round 5 PGN by Ewan Green
A Grade
Gino Thornton vs Paul Garbett – Paul declined Gino's early draw offer and regretted it after Gino managed to get a Queenside pawn majority in the endgame and push these to a win. 1-0
Bruce Watson vs Alexei Kulashko – Black got a piece trapped and lost and things went downhill from there. 1-0
Daniel Gong vs Alphaeus Ang – After 25 moves in a cramped position an exchange of pawns on the Kingside left Whites position exposed and Black was able to line up the artillery (although White almost saved the point in the endgame). 0-1
Mike Steadman vs Ben Hague – Black got a passed pawn in the middlegame with a lot of pieces behind it. 0-1
After a loss by previous-leader Alexei Kulashko; Ben Hague is now in first place with 4 points. Just behind on 3.5 are Kulashko and Alphaeus Ang.
B Grade
Allen Fan vs Paul Macdonald – (Annotated in the PGN by Paul). White picked up a couple of pawns and then pushing passed pawns picked up a piece. 1-0
John Duneas vs Alex Nagorski – Annotated by Alex in the PGN – A roller-coaster of a game. Black was two pawns up but allowed a passed pawn which after the dust cleared left each player with a King and 3 kingside pawns. Black then made a mis-step and allowed White to get a passed pawn. 1-0
Nathan Goodhue vs Qi Le Kong Lim – A French exchange led to the game quickly swapping to an endgame. White had a slight advantage but Black was able to hold the draw.
Erwin Koestano vs Leo Zhang – Black's position fell apart after he underestimate an attack.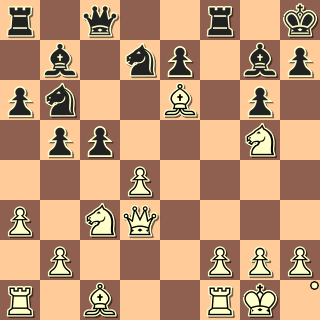 As in A Grade the leader (Alex Nagorski) lost in round 5 so the lead is now shared between Alex and John Duneas on 3.5. Just behind are Paul Macdonald and Nathan Goodhue on 3.0
C Grade
Only one game in C Grade was played on Monday, Although Keith Ward has withdrawn so Simon Lyall won by default.
Din Eade vs Tim Ha – Annotate by Tim in the pgn – Black had a good start but his push ran petered out and White seized the initiative and picked up and attack and an exchange. Black tried some tricks but they were not enough. 1-0
Simon Lyall is currently in the led by half a point but Nicole Qin has a game in hand. The rest of the field is well behind those two.
D Grade
Jin Own vs Euan McDougall – White mis-calculated a series of exchanges and ended up a rook down.
Upsets:
Anya Thurner beat Philip Te Whata
Abraham Deng beat Wayne McDougall
Euan McDougall is the only undefeated player and is a point ahead of Sarah Yan, Abrahan Deng, Jame Liu, Jordan Lewis and Mathew Steadman (all on 4 points)