The Autumn Cup is being held in April though June 2018. There are two rated Swiss grades with around 70 entries between both grades.
2018 Autumn Cup Rd1 PGN by Ewan Green
Both grades saw a large number of first round byes, mainly due to school holidays.
A Grade
The first round saw wide ranges in ratings and only two upsets. I'll only cover the interesting games below.
Alphaeus Ang vs Tim Ha – White launched into push but black defended well and stayed a little better.  Black missed his chance to go a pawn up and agreed on a draw in an even Queen+pawns position.
Virginia Milne vs Mike Steadman. Black almost got into trouble (see diagram) but White missed the best move..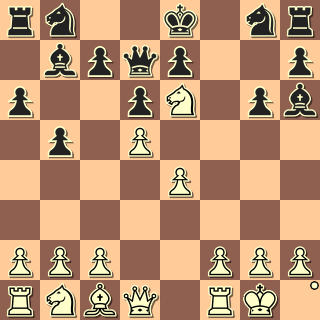 Stephen Peak vs Allen Fan – A cute finish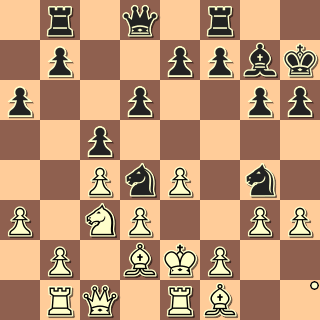 Alex Nagorski vs Rodney Li – See the PGN for Ewan's analysis – White was better at the start but failed to find the best continuations. He made a couple of mis-steps in the endgame but Black failed to find the correct move to take advantage and White won a couple of pawns to give him the game.
Don Eade vs Winston Weng – White was in a bit of trouble but Black failed to follow though with his attack and quickly fell to White's counter-attack.
Filix Xie vs Joy Qin – Black's errors eventually caught up with her.
Upsets:
Felix Xie beat Joy Qin
Tim Ha drew against Alphaeus Ang
B Grade
A large number of byes and only one upset.
Renae Ghadiali beat Boyuan Zhang.