A reminder that there will be a May Weekender at the Club on the 19th, 26th and 27th of May. Download the Entry form
2018 Autumn Cup Round 3 PGN by Tim Ha
After the mismatches of the first 2 rounds round 3 saw mostly close match-ups.
A Grade
Mike Steadman vs Paul Garbett – Mike played his favored "1 b4" and both players survived the the opening evenly. A draw was agreed on move 28 in an even position. Draw
Ben Hague vs Nathan Goodhue – White got better early and picked up a pawn which he converted to a passed pawn. Eventually black picked it up and quickly took the draw in relief not realizing he was a pawn up. Draw
Caroline Yan vs Bruce Watson – White's position got increasingly cramped and she resigned faced with a lost endgame. 0-1
Alphaeus Ang vs Clinton Wells – White aggressively attacked and picked up a couple of pawns which was enough. 1-0
John Duneas vs Allen Fan – White looked better almost throughout and had a huge attack. But he failed to find the winning moves (see one in the diagram below) and was a piece down when the attack faltered. 0-1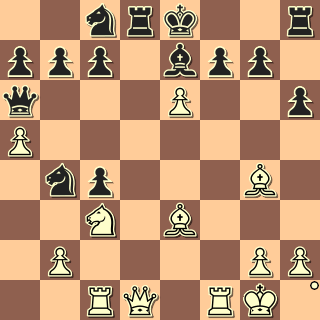 Daniel Gong vs Stephen Peak – Another "1. b4" . Black played well but lost a pawn on move 34 and his rapidly collapsed. 0-1
Roy Seabrook vs Rodney Li – White got a strong attack and black resigned after he gave up a piece. 1-0
Aaron Wang vs Don Eade – Black got lost in the opening and ended up well behind. Black managed to recover but a couple of bad moves allowed white to launch a fatal attack. 1-0
Lewis Jordan vs Tim Ha – Black made a mistake and allowed white to sacrifice a bishop on h7 and attack the under-guarded king. He couldn't find the knockout move however and the game ended in a draw.
Felix Xie vs Xinyang Liu – White was better for most of it but black put up a solid defense. Black resigned after losing a piece. 1-0
Erwin Koestanto vs Euan McDougall – Black misplayed the opening and lost quickly. 1-0
Simon Lyall vs David Xu – Black missed a tactic and lost his queen.  1-0
Winston Weng vs Sarah Yan – White pushed a strong attack and won material. Black resigned but she may have been early (see diagram). 1-0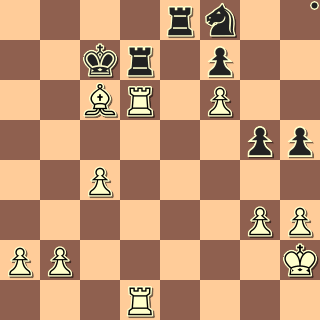 Own Jin vs James Liu – Black was slightly better but then made a mistake and white was winning. However white missed the killer move and the players drew.
Virginia Milne vs Andrew Michael – after a lot of back and forth white got a winning attack. 1-0
Top Upsets:
Aaron Wang beat Don Eade
Winston Weng beat Sarah Yan
Nathan Goodhue drew with Ben Hague
Felix Xie beat Xinyang Liu
Add 4 people on 2 points drew so there are now 7 players in the lead on 2.5.
B Grade
Top upsets
Mathew Steadman beat Wayne McDougall
Ying Wang beat Jocob Barry
Of the 5 undefeated players last round only one won their game so Ying Wang goes into the sole lead. 4 players are just behind her on 2.5 points.