A note that the Club Champs will be held starting on June 18th. It will be over 9 rounds with the top two grades FIDE and Nationally rated Round robins while the C Grade with be a Nationally rated Swiss.
There is a signup sheet at the club or you can email or Text Simon Lyall to enter.
Autumn Cup 2018 R4 PGN by Ewan Green
A Grade
Bruce Watson vs Mike Steadman – Both players missed the best tactics (see the PGN for one line). White resigned after he dropped at Rook. 0-1
Allen Fan vs Alphaeus Ang – Black picked up a pawn and left White's pawns looking lonely. He then found an attack which became a checkmate when. 0-1
Paul Garbett vs Nathan Goodhue – White had a big attack and gave up a bishop for two pawns to keep it moving. He eventually Queened and mated. 1-0
Roy Seabrook vs Daniel Gong – Black picked up a pawn in the opening and then successfully stopped a White attack and gaining more material. 0-1
Felix Xie vs Alex Nagorski – Black picked up a pawn and then swapped to a winning endgame. 0-1
Tim Ha vs Aaron Wang – Black blundered a Queen on move 8.  1-0
Simon Lyall vs John Duneas – Black gave up two pawns for an attack. White managed to stabilize the position and then gave up an exchange to take out Blacks good Bishop.  White failed to find the best move however and let Black back into the game. Both players missed wins and the game was finally drawn.
Clinton Wells vs Lewis Jordan – White picked up a pawn and managed to stop Blacks passed pawns long enough to win on the other side of the board. 1-0
Winston Weng vs Virginia Milne – White picked up a pawn and kept it into the endgame. 1-0
Stephen Peak vs Don Eade – Black's position slowly got better and he ended with a won ended. 0-1
James Liu vs David Xu – Quick draw.
Biggest upsets:
Winston Weng beat Virginia Milne
Simon Lyall drew with John Duneas
Mike Steadman beat Bruce Watson.
Three players are now in the lead on 3.5. Alphaues Ang, Paul Garbett and Mike Steadman.
B Grade
Hugh Gao vs Ying Wang  – 0-1
Jason Huang vs Kenny Zhang –  1-0
John Liu vs Isabelle Ning – Black was looking good until she blundered a piece – 1-0
Saasha Ghadiali vs Joe Wang – White got a worse position in the opening and then game under a sustained attack from black. Eventually she made a mistake. 0-1
Jeffery Yu vs Abraham Deng – White picked up an early piece. 1-0
Philip Te Whata vs Leo Li – White lost a piece. See diagram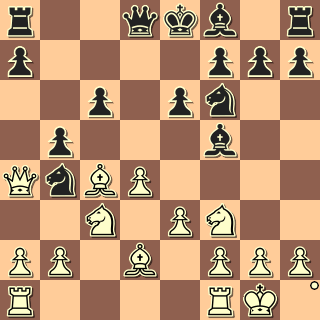 Erica Hu vs Wayne MacDougall – White failed to find the move to prevent checkmate.
Upsets:
John Liu beat Isabelle Ning
Leaders are Hugh Gao and Jason Huang on 3.5