A reminder to enter soon for the Sprign Cup. The format will be similar to the Winter Cup. There will be 2 rated Swiss grades. However the A Grade will be smaller with around 25 players.
The ACC Winter Cup is two rated Swiss grades over 7 rounds.
Winter Cup 2018 , Round 4 PGN by Tim Ha and Alex Nagorski with input from Simon Lyall and Paul Macdonald.
A Grade
Allen Fan vs John Duneas – The only two undefeated players at the start of the round and the last game to finish. White got a piece trapped and lost around move 20. Black then swapped down to having a rook and bishop vs a rook with white having extra pawns. But after swaps black had a KRB v KRP and a tablebase draw (see digram). After defending sucessfully white made an error on move 89 allowing Black to safely take the pawn and quickly win. 0-1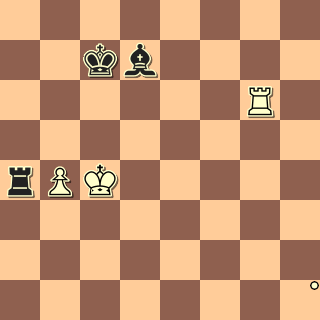 Paul Macdonald vs Gordon Morrell – Paul has some in-depth analysis in the PGN. The game was very close. Draw
Mike Steadman vs Aaron Wang – Black came out better in the unusual opening. Pawns were exchanged and the position was very open with lots of tactics and chances for both players. However White blundering into a fork and resigned. 0-1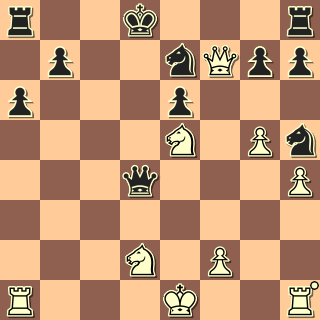 Winston Weng vs Nathan Goodhue – A straightforward win for Black. 0-1
Alex Nagorski vs Rodney Li – Black came under pressure, missed some tactics and ended up a piece down. 1-0
Andrew Michael vs Tim Ha – Annotated in the PGN by Tim – White was better but miscalculated a tactic and lost a piece. Black pulled ahead but "got stuck" and sacrificed the piece back for two pawns. White held on and the game came down to White with a rook and a pawn vs Black with a rook and 2 pawns. White made a mistake and lost. 0-1
Don Eade vs Abraham Deng – White game up a pawn and then an exchange. Black then pressed his advantage. 0-1
Alphaeus Ang vs Sarah Yan – White picked up a pawn in the opening and then swapped down to a better endgame and won. 1-0
Caroline Yan vs Akshay Sharma – White ended up with a bad pawn structure going into the endgame which left her with no real chance. 0-1
William Undy vs John McClory – Black lost time in the opening and white exploited it to develop. A few more mistakes and White was able to promote and win. 1-0
Roy Seabrook vs Xinyang Liu – Black brought out his Queen but it lacked support and white was able to develop and push his pawns though the centre. Black game up an exchange but a mistake a couple of moves later lost the game. 1-0
Simon Lyall vs Mathew Steadman – Black tried an unusual opening line which threw White a little. However White found an attack and Black made a couple of fatal errors defending. 1-0
Felix Xie vs Jardon Lewis – A fairly even game until Black swapped into a completely winning King and pawn ending for White! 1-0
Philli Park-Tamati vs John Pakenham – White picked up a couple of pawns after out-playing Black. 1-0
Virginia Milne vs A Sriram – Black pushed a couple of pawns against White's castled Queen. White defended okay and made a strong counter-attack which caused Black to quickly resign as he was unable to stop it. 1-0
Stephen Peak vs David Ansell – White built up an attack against Black's castled Queen. Black made an error and resigned with White winning a piece or two. 1-0
Upsets:
Aaron Wang beat Mike Steadman
Abraham Deng beat Don Eade
Akshay Sharma beat Caroline Yan
Philli Park-Tamati beat John Pakenham
Felix Xie beat Jordan Lewis
John Duneas beat Allen Fan
John Duneas is by himself on 4 points. There are 8 players in 2nd-equal on 3/4.
B Grade
Only 9 games played in the B Grade due to a large number of players taking byes.
Upsets:
Adam Hasan-Stein beat Isabelle Ning
Anya Thurner beat Hugh Gao
Priyanshu Pattani beat Uday Jain
Current leader is Joe Wang on 4. Boyuan Zhang is second on 3.5 and 4 players are on 3/4.
Possible Draw for round 5
Usual disclaimers apply.