The Club Champs is played over the 9 rounds in June, July and August. This year the A and B Grades are 10-player round robins and the C Grade is a Swiss. All Grades are FIDE and NZCF rated.
Vega Links: A Grade , B Grade , C Grade
Draw: A Grade , B Grade
A Grade PGN and commentary by Nigel Metge
A Grade
Of the 4 games played (Macdonald – Zhang is postponed) 3 were fairly straightforward draws but poor Michael Steadman got minced in 25 moves by Alphaeus Ang.
Ang, Alphaeus – Steadman, Michael 1-0
Michael often plays unorthodox opening lines looking for a 'tactical mess' to revel in. Here he pushes his luck too far mishandling the defense to a sharp Samisch against his Nimzo-Indian 6…,d6 and 8…,f5?! Alphaeus mounts an overwhelming attack and Black is reduced to almost zugzwang after 25.g5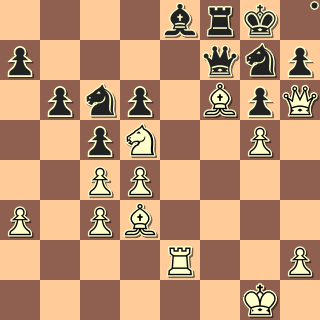 Goodhue, Nathan – Garbett, Paul ½-½
In a Queen's Gambit Declined White exchanges his Bg5 for Black's Nf6 unusually early giving Black the 2Bs in return for free development. Black allows White's 11.e4 exchanging Black's good B in return for White's IQP. White fights for the draw and ultimately succeeds after Garbett eschews late middlegame complications.
Fan, Allen – Watson, Bruce ½-½
Starting as a Reti, then English, the opening transposes into a type of closed Catalan where Black accepts hanging pawns but equal chances. White simplifies to an equal ending but then embarks on a most unclear piece sacrifice to bring his rooks to the 6th & 7th ranks. Bruce defends calmly and could have brought home the point from the critical position after 29.Rxg7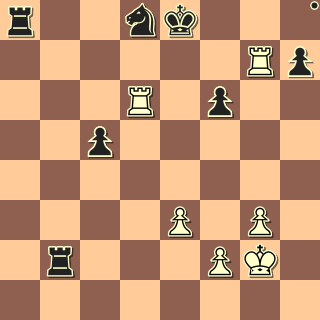 The correct 29…Raa2! Is easy to see but hard to calculate!
After Black's 29…c4? White has time to bring his rooks to the 7th and hold the draw by perpetual check.
Hague, Ben – Gong, Daniel ½-½
The Advance Variation against the Caro-Kann can lead to great complications. Daniel reacts with 3…c5, a move introduced by Botvinnik against Tal in their return World Championship match 1961. But Tal did not play 4.Ne2…With 7.b4 a fight for control of e5/c5 begins. The next few moves are tense with many unseen possibilities but by 21.Qd4 the position is calm and heads for a draw.
After 2 rounds three players are in the lead on 1.5