This was the first week of the school holidays so we managed to fit everybody in the main room without problems.
Vega Links: A Grade , B Grade , C Grade
Draw: A Grade , B Grade
Club Champs Round 4 PGN by Ewen, Nigel, Tim and Alex.
A Grade commentary by Nigel Metge , B and C grade commentary by Simon Lyall.
A Grade
A round of decisive results…and up-and-down play!
Macdonald, Paul – Watson, Bruce 0-1
Black equalizes easily against Paul's quirky opening and with 9…f5 initiates an attack against White's Kf1. The position appears threatening but Stockfish indicates chances are equal. Bruce plays the pretty 18…,Be3 but this is an error allowing White a decisive reversal of attack with 19.Qc3! Missing this opportunity is still not fatal for White but the superficially attractive 21.Bh5 meets 21…f3+! In this sharp position, one more error 23.Bxg4? costs the game.
Hague, Ben – Ang, Alphaeus 1-0
Alphaeus essays a difficult line of Pirc, maneuvering his Nf6 all the way from his K-side to the unpromising b6 presumably anticipating White castling long. There are few GM examples, but White scores high in this line. Ben skips castling and advances his pawns 12.g4/13.f5 simply ripping open the K-side and center – Black's position falls apart.
An off-day for Alpaheus and a good attacking win by Ben.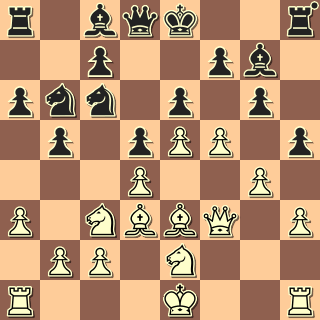 Goodhue, Nathan – Steadman, Michael 1-0
Nathan plays a typical quiet Q-pawn opening and Black opens an attack front 16…,f5 With 18.Nd2 White wants to recapture on e4 with his N rather than his Q…but this is a mistake allowing the tactical stroke 18…,Nf4+! White rushes his remaining rook to the K-side 20.Raf1 but again this allows decisive 20…Nf4+!
By 24…,Nd4 Black still looks to have better chances but Stockfish rates chances as equal. Perhaps searching for a tactic that is not there, Black blunders by 29…Bh6?? And an interesting game ends suddenly.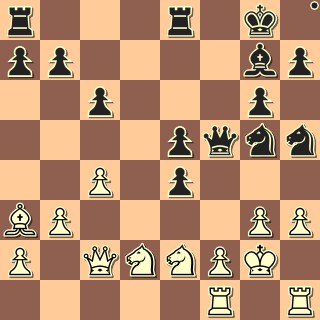 Zhang, Jasmine – Garbett, Paul ½-½
Against Jasmine's usual London system, Paul equalizes easily enough with classical e6/d5/c5 setup; but it is not so easy to come up with a positive plan thereafter. Paul keeps White's potential attack on K-side at bay but chooses not to advance his Q-side pawns en masse after 19…,Rfc8 followed by 20…a5. With the exchange of more material, especially the dark square Bs and Rs, a draw becomes very likely and both players repeat moves.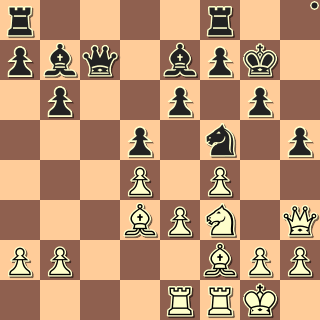 B Grade
Caroline Yan vs Don Eade – White got off to a good start with some slow moves by Black. Playing 12. Bg5 appears to win at least a pawn but she played Be3 instead. White then swapped off her best pieces to leave Black in a dominant position. 0-1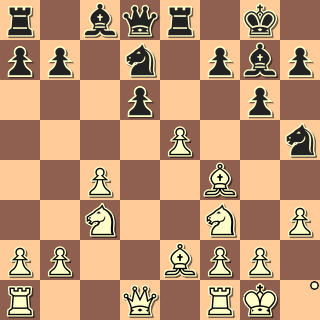 Euan McDougall vs Alex Nagorski – White played an awful opening line but Black missed the best lines ( 7. ..Bxd4 wins a piece easily). However, Black was soon much better and had an overwhelming attack but missed the correct move on move 16 (see diagram). Instead, he made a couple of bad moves and ended up a piece down. From there White just needed to untangle himself. 1-0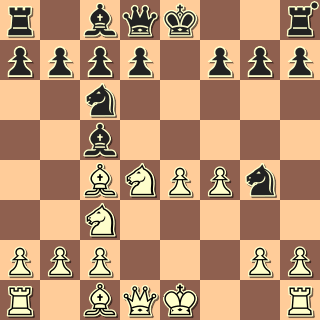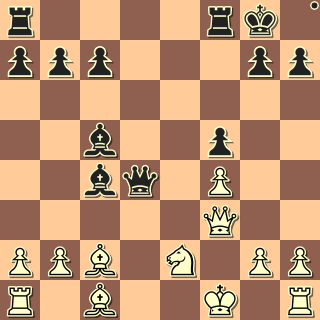 Jordan Lewis vs Simon Lyall – White gave up a pawn for an attack but Black managed to avoid the traps (at the expense if using a lot of time). White made an error and gave up an exchange plus another pawn and then decided to resign after Black started to untangle. 0-1
Tim Ha vs Felix Xie – A slow game with long pawn chains and pieces squeezing through the gaps. It wasn't till around move 40 that the first file was opened. White was a little better for most of the game but the pawn swaps allowed Black to quickly infiltrate, station a pawn on the 7th rank and then quickly win 3 pawns. 0-1
Felix Xie leads with 3 points and one game unplayed. Several other games are unplayed however.
C Grade
Boyuan Zhang vs Arkadi Polyakevich – Players castle on opposite sides and started pawn pushes. However in his hast to push Black left a piece en prise. White pushed his attack but made a mistake and allowed Black to ended up with two outside passed pawns to compensate for his lost piece. However the endgame required Black to play almost perfectly and errors quickly accumulated and White was able to win. 1-0
Kenny Zhang vs Isabelle Ning – An long game with both players having chances. White got better in the opening but allowed Black to get an open file and lost two of his better pieces. Black then found a tactic that picked up a couple of pawns although she missed the best line (see diagram). The players swapped to an endgame with a rook each, opposite coloured bishops and Black with an extra pawn. Black took a rook swap and the game was drawn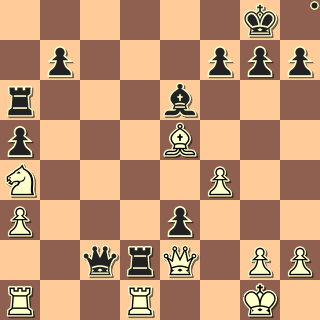 Grant Burrows vs Ajit Pendharkar – White missed a tactic and lost a rook. 0-1
Andrew Michael vs Joe Wang – White had some pressure but was unable to time a breakthough move. Black then swapped off all except two pieces each and ended up a little better. Black was able to played the endgame better picking up two pawns and threatening to push though passed pawns. 0-1
Upsets in Round 4 of C Grade

Joe Wang beat Andrew Michael
Boyuan Zhang beat Arkadi Polyakevich

Boyuan Zhang is now in the lead being the only play with 4 wins from 4 games. 2nd Place is Kenny Zhang with 3.5. No fewer than 10 players are on 3 points,