Don't forget to enter the Winter Cup which starts August 19th. The Tournament will be two rated Swiss grades of roughly equal size.
Vega Links: A Grade , B Grade , C Grade
Draw: A Grade , B Grade
Round 7 PGN by Ewen Green and Nigel Metge
Commentary for A grade by Nigel Metge.
Commentary for B & C Grades by Simon Lyall
A Grade Catchup Games
Garbett, Paul – Hague, Ben 0-1 (Round 5, Played 31-Jul-19)
Unusually, Paul tries a QP opening against Ben but the result is not a success. In a slightly unusual QGD, White goes for the win of a pawn on c6 at the cost of 2 tempi (6.Qa4+, 7.Ne5, 8.Nxc6) but then decides not to take, preferring 10.Bxf6?!,Qxf6; 11.e3 Black, with superior development and control over white squares takes the initiative. No doubt reluctantly, White permits Black to stop him castling, 14.g3?!,Bh3. White's K is now in the centre and difficult to defend, although possible according to Stockfish. White's 16.f4 is the fatal weakening move and after this Ben closes in on both wings. A fine victory by Ben but an uncharacteristic loss by Paul.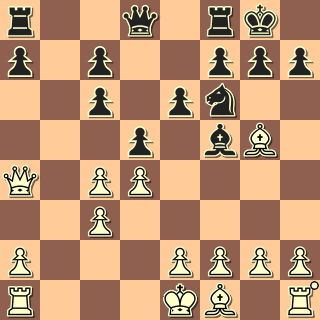 A Grade Round 7
A round of decisive games and in particular Ben Hague loses to Bruce Watson opening the competition for first place.
Watson, Bruce – Hague, Ben 1-0
Against Bruce's usual English, Black plays a Reverse Dragon, surely one of the most aggressive lines, recently favoured by Carlson & Caruana with both colours! With the thematic exchange sac 14.Rxc3! White increases his control of white squares. 15…,Bd7 is a little mechanical; Black can maintain equality with 15…,Qd4 when White can retreat 16.Nc4 or win back the exchange 16.Nxc6,Qxb2; 17.Nxe7+,Rxe7; 18.Nf6+
After 23.h4 White has a comfortable edge with his unassailable Nc4 and the centre pawns ready to roll. It is difficult for Black to find any active play; Ben tries but stumbles into a startling combination! 24…,Qh3? loses the Q leaving White in a winning endgame with 2 active pieces vs. passive R.
A good game by Bruce – Ben rarely loses!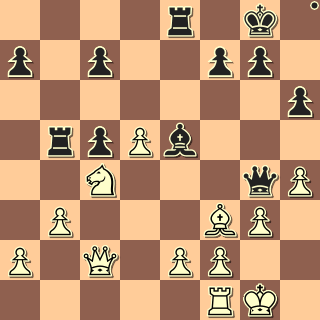 Ang, Alphaeus – Macdonald, Paul 1-0
Against the Nimzo-Indian White plays the most aggressive 4.a3 / 6.f3 line aiming at supporting e4 and a K-side attack with Ng3 and Ra2-e2. Black reacts sensibly with d5/b6 and equal chances. However as White momentum builds Paul declines the chance to be active with …h5 and soon finds himself facing a hard-to-beat fork on d6. One more mistake, the exchange is lost, White penetrates the 7th with his rook and pawns fall.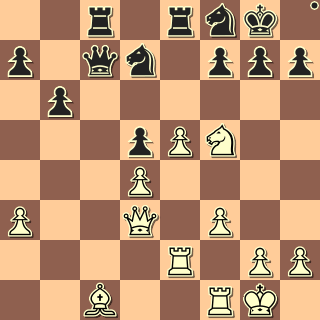 Fan, Allen – Goodhue, Nathan 1-0
Nathan is a cautious player preferring solidity to risk. Here however he takes it too far. After an equal, almost symmetrical English opening Black declines several possibilities for active play, 8…d5 & 18…f5 With 26.Qd2 it becomes clear that White's slow initiative has created play on both wings (a & h files) and Black is struggling to prevent invasion. An interesting game in which Black loses without making any obvious mistakes.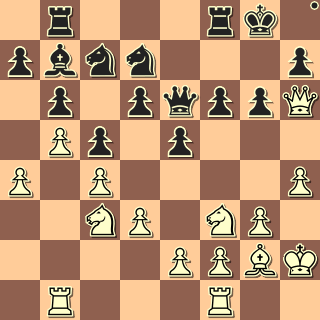 Steadman, Michael – Garbett, Paul ½-½
In a Classical Sicilian, White avoids the main attacking lines 6.Bg5/Bc4 and plays respectable 6.g3. With 10.Qe2 Michael is evidently out-of-book; GM practice favours 10.Bg5/f4/h3. Paul simply completes his development and equalizes. It is not so easy for White to untangle his Na3 as Black has pressure on c4/c3/c2; White's 'Petrosian manoeuvre' 18.Nab1 does not make a beautiful impression. Black's initiative grows but with 25…d4 Paul characteristically exchanges Queens preferring a small advantage in a simplified middlegame to a potentially more promising 25…d5! Accurate play by White steers the game to an equal position and the players agree a draw.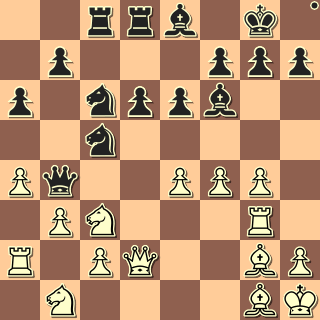 Gong, Daniel -Zhang, Jasmine ½-½
Jasmine has to face her favourite London System which she does sensibly with a fianchetto setup. Daniel however shows his unfamiliarity with this opening with a pawn grab 6.Bxb8 /7.Qa4+ known to be bad. Black quickly develops an initiative sufficient for the pawn minus but with 17.0-0-0? White castles into a winning attack. By 24…,Rxc5, White faces insuperable difficulties. Passive defense by 25.Rb1 is best but he tries the interesting 25.Nf3? to which Black should retort brilliantly with 25…Rc3! Instead she plays 25…Rc2 which is still good and after 27.Kb1 a pretty win is 27…Re2! Instead 27…exf3? allows White to escape to a drawn ending.
A fine attack by Jasmine and Daniel is lucky to draw.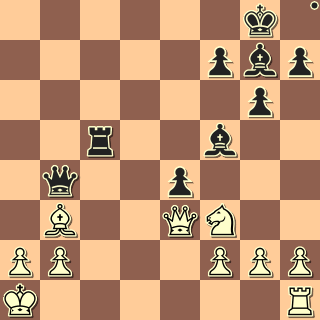 With just two rounds left Watson and Hague have a 1.5 point lead over the next three players. The champs seems to be a two horse race.
B Grade Catch-up Games
Simon Lyall vs Don Eade (from round 1)
White got sloppy in the opening and lost a pawn. There was a steady swap of material until the players were down to just a rook and bishop each. Black kept up the pressure and had several opportunities at winning but missed them. Both players made mistakes in time trouble with White managing to equalise and the players finally agreeing to a draw.
Xie, Felix – Lyall, Simon 0-1 (from round 6)

Commentary by Nigel Metge
Against the rare Vienna opening, Simon makes an early mistake 3…Nc6 and White's centre pawns roll forward with a strong attack looming. Already by move 11 White could strike with Qe1 & opening the e-file. Black fights for equality and a critical position arises at move 22: White can sharpen play with two moves: h4! or Ng6. Missing this White drifts into an ending in which his N is inferior to Black's well-placed B. Simon plays this part of the game efficiently and wins a game that looks like a loss earlier.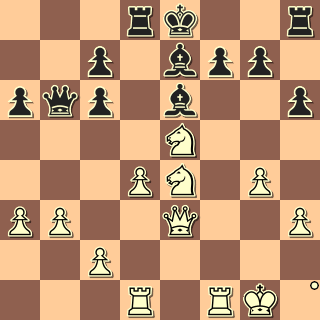 B Grade Round 7
Simon Lyall vs Caroline Yan – Draw
White gets a slightly better opening (although not as good as he could have) but missed 14. Qh5 in favour of the pawn-losing 14. f4? . Black however underestimates White's attack against f7 and instead of the safe 18. ..O-O captures with 18..Nxe3. Luckily for her White misses the best continuation and settles for a draw.
Alex Nagorski vs Tim Ha 1-0

Black overlooks a zwischenzug and loses a piece in the opening. He resigns straight away.
Don Eade vs Jordan Lewis 0-1
White loses a critical central pawn after 24. d5 and completely exposes his position. He is unable to hold on as Black switches his attack from side to side and eventually wins a piece.
Euan McDougall vs Xinyang Liu 0-1
White gets in favorite f-pawn move in early with 1. e4 e6 2. f4!? . But a few moves later gets himself in trouble (see diagram) and loses a piece. Black quickly converts.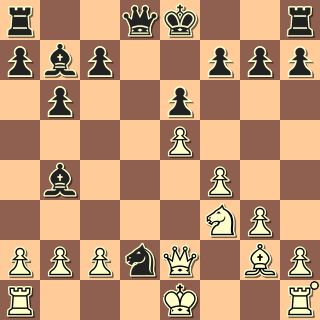 An easy win in round 7 stretches Nagorski's lead to 2 points. Although several players have unplayed games he will be hard to catch.
C Grade Round 7
Arkadi Polyakevich vs Lakshmi Ravi 0-1
Black picks up a pawn with a mate threat and then overwhelms White. He finishes with a Classic Queen+Knight smothered mate.
Isabelle Ning vs Boyuan Zhang 1-0
Black gets his opening lines confused and loses a piece. White has few problems after that.
Ajit Penharkar vs Stephen Peak – Draw
After a confused opening the players took an early draw.
Scott Treanor vs Grant Burrows 1-0
Black goes for a tactical trick ( 15. dxc5 Bxh2+ ) but Whites spots it and wins a pawn. Imminent lose of more material convinces Black to give up.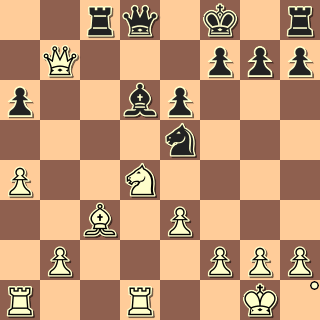 Thomas Zhen vs Karl Holdo 0-1
Black destroys White with a very well coordinated attack.
Upsets in C Grade round 7

Mathew Steadman beat Andrew Michael
Michael Ma beat Mike Steiner
Yolanda Chang beat Wayne McDougall
Anya Thurner beat Hugh Gao
Alan Leech beat Uday Jain
Ethan Liu beat Erica Hu

Ravi Lakshmi leads the grade on 6 points. Isabelle Ning is 2nd on 5.3 and 5 players are 3rd on 5.