With the School Holidays over we saw a big increase in the number of boards this week. Photos from this round taken by Simon Lyall are online.
Vega Links: A Grade , B Grade , C Grade
Draw: A Grade , B Grade
Round 6 PGN by Nigel Metge and Ewen Green
Commentary for A grade by Nigel Metge. B & C Grades by Simon Lyall
A Grade – Round 5
Mike Steadman vs Paul Macdonald 1-0

Paul plays the Scandinavian against Michael, perhaps not the best choice against an attacking player since White has active development. An error in calculation 14…,Nbd7? costs Black a pawn. An interesting moment arises after the aggressive 25.f4?! Stockfish recommends the remarkable 25…h5! & after 26.h4, Rb3 has counterplay. After 25…,d5 White achieves his idea of f5xe6 and Black loses another pawn and finally another.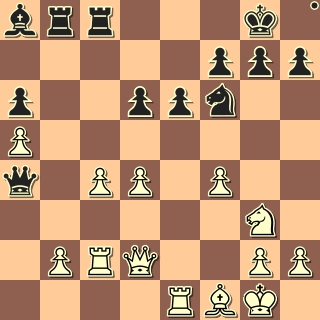 A Grade Round 6
Garbett, Paul – Watson, Bruce ½-½
Paul tries a less common line in Sicilian Taimainov, 8.Nxc6 and 12.e5 which can lead to sharp play. Bruce's 14…,Bb7?! is inaccurate; better is 14…,Ba6 defending the b5 pawn. Paul in turn chooses not to play the sharp 15.Bf4 followed by Ne4 with a dangerous attack. Instead after 15.Qg4 the game simplifies and with accurate play White forces the draw.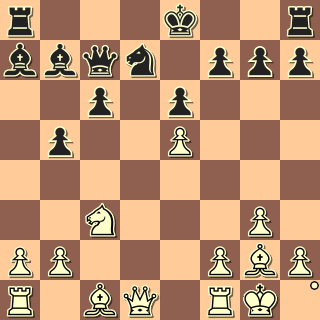 Hague, Ben – Fan, Allen 1-0
Ben plays a very contemporary line 7.e5 against Pirc Defence as used by Carlson & Grischuk with excellent results. Allen is unfamiliar with this line and immediately makes a mistake 7…dxe5 opening the d file and then shifting his pieces to his Q-side, 10…Qa5 & 12…Nb6. White rapidly advances his h-pawn opening the h file and stopping Black castling; the end is near…Nice win by Ben!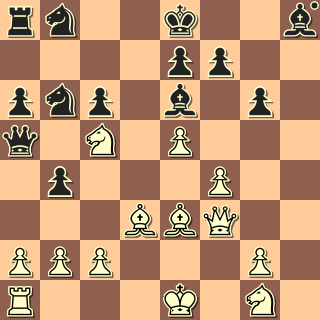 Goodhue, Nathan – Ang, Alphaeus 1-0
A symmetrical Reti transposes into King's Indian; 8.a3 is quiet and sound but with 9…b5 Black leaves ChessBase – preferred is 9…Bf5 or d5. White plays quietly and Black slowly grows his initiative culminating with an awkward pin on White Nd4. But with 24…Rc4 and sacrificing the exchange next move, Alphaeus over-reaches. 29…Bxd4? is a losing idea after 31.Qe3! The endgame has a neat surprise as White marches his K to h6 to deliver mate!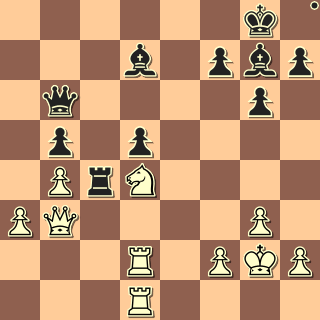 Macdonald, Paul – Gong, Daniel ½-½
After an unusual opening -we are out of ChessBase with 4…,f5!? White develops an advantage with 14.Nd5 when Black can choose to castle long or short…but 15…0-0 costs Black a pawn. White could play more accurately at several points and Black is fortunate to draw.
Zhang, Jasmine – Steadman, Michael 0-1
Michael comes well prepared for White's London System and equalizes early. Unnecessary pawn moves by White, 17.c3 /18.b4 allows Black to double on the d-file and win first one pawn, then another.
Ben Hague and Bruce Watson share the lead, but Ben has a game in hand.
B Grade Round 6
Caroline Yan vs Euan MacDougall – Black gets in his favorite f-pawn push and then pawn-storms White's King (both are castled King-side). But after he misses 24..f3+ (see diagram) his attack falters and he walks into a fork. After that White's just has to avoid blunders. 1-0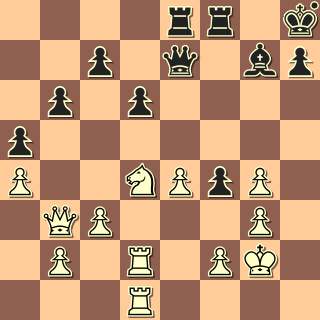 Xinyang Liu vs Don Eade – After a shaky opening White finds a nice tactic that wins a piece and it is all over. 1-0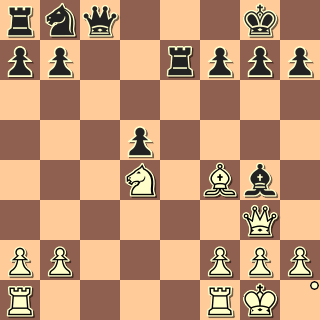 Jordan Lewis vs Alex Nagorski – Black picked up a pawn and turned it into a won endgame. 0-1
Tim Ha vs Abraham Deng – Black got in an aggressive attack which White gave up an exchange to stop. After some swaps Black's momentum faltered and white was able to use his bishop pair to harass Black who was running low on time. Both players avoided fatal errors and agreed a draw after positions repeated. Draw
Alex Nagorski's win helps stretch out his lead. However there are still many unplayed games.
C Grade Round 6
Lakshmi Ravi vs Boyuan Zhang – Black was a little better for most of the middlegame after white game up two pieces for a rook and two pawns. However the position became very sharp and Black was using a lot of time analyzing the complicated positions see diagram). Eventually he made too many errors. 1-0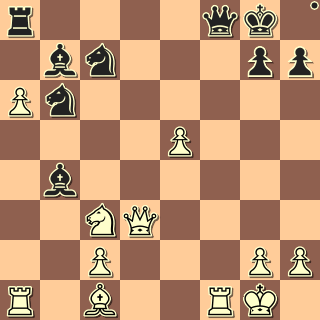 Arkadi Polyakevich vs Thomas Zheng – For most of the White nicely built up against black and pushed forward. Just at the endgame he made a slip and gave Black a chance but Black missed the correct moves. White was then quickly back in control. 1-0
Hugh Gao vs Aaron Wang – An even game until White underestimated and attack by Black and was quickly mated.
Upsets in C Grade round 6
Joseph Xin drew with Mike Steiner
Mantra Bhatt beat Vincent Cai
Joe wang beat Philli Park-Tamati
Hannah Xu beat Ying Wang
With the loss by leader Boyuan Zhang there are now 3 leaders. Boyuan Zhang, Arkadi Polyakevich and Lakshmi Ravi lead on 5 points. Just behind them on 4.5 are Isabelle Ning and Aaron Wang.