It's lockdown level 4 and no OTB chess for a while again… Auckland Chess Centre will reopen when Auckland is on level 1. There'll be no casual Friday nights, no junior Saturdays, and alas, no Monday night tournaments either.
Since we won't have OTB chess for about two weeks, we invite everybody to play online on Friday, Aug 20, at 7:30 pm. This time it will be a Swiss tournament, 11 rounds of 3+2 blitz. At the end of the tournament, a prize will be drawn with a random winner, so everybody has a chance! It will be a Chessable course by Vladimir Kramnik or Judit Polgar, the winner chooses from the two courses offered by us.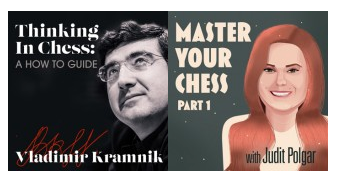 Lichess does allow late-joins, pausing and quitting the tournament, so you have some flexibility with time, too.
The tournament link is https://lichess.org/swiss/SqMtxPRx (you have to be a member of the NZCF Lichess team to play, please read the instruction on https://lichess.org/team/new-zealand-chess-federation to join).