The Auckland Chess Centre Club Champs was held in from June to August 2019. There were two 10-player round-robin grades and a Swiss Grade. All grades were FIDE and NZCF rated.
Vega Links: A Grade , B Grade , C Grade
Draw: A Grade , B Grade
Round 9 PGN by Nigel Metge and Ewen Green
Commentary for A grade by Nigel Metge.
Commentary for B Grade by Simon Lyall
A Grade
Steadman, Michael – Hague, Ben 0-1
A decisive victory for Ben.
In response to Ben's Sveshnikov Sicilian, Michael tries a less popular Maroczy bind setup. Ben, always well prepared reacts with early 8…f5, guaranteeing active play for his pieces and pressure on the f-file in return for weak d5 square and backward d6. With 13…Kh8 Ben leaves ChessBase14 but has clear equality. White makes some loosening moves 17.b4 /21.g3 and Black begins a complex attack on the K-side. But 21…Rag8 could have led to great difficulties if White had replied with the sharp 22.f3!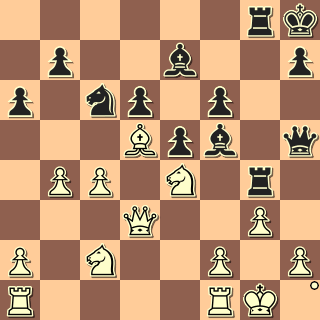 With 24.Qh1?, White buries his Q, never to be seen again. It was in fact not necessary to defend h2 as White K can escape to e2 and White still has compensation with his mobile Q-side majority.

After 30…,e4 cutting White's position in two, Black is basically winning but care is still required. Stockfish finds an extraordinary defense in 37.Nxe4!,fxe4; 38.Rxe4 followed by Q to the centre, rating this as equal. White has only 2P for a piece but secure K and pressure against Black weak pawns.

With 40.f4? White loses patience and shoots his position! It's fairly obvious that opening the dark diagonal to the K is not going to end well.
Gong, Daniel – Watson, Bruce 1-0
Bruce's reliable Taimanov Sicilian produces a perfectly satisfactory position, only needing castling to complete his setup. Instead, 20.Qg4 prevents castling and asks the question 'Where are you going Your Majesty?' It turns out 18…Ke7 is insecure and probably Kf8 should be preferred. With 22.f4 White opens the f-file; still Black is not worse and with 22…Rcg8 Black could hold his K-side.

The critical position arises after 27.Ne3. White's attack looks dangerous and indeed after 27…Bc6?, the sacrifice 28.Nd5!+ is decisive.
30…Qxc2 hastens the end but even the natural Qd6 blocking White's d-pawn does not save the game: 31.Bh3 Rc7; 32. Rxc7 Qxc7; 33. Bxd7 Qxd7; 34. Qe4 and White recovers his piece with 2 pawns up.
White continues his attack accurately and wins a Q for R by move 40. Bruce could with good grace have resigned then.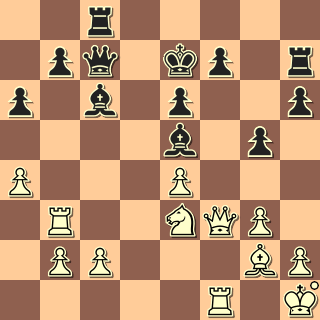 Ang, Alphaeus – Garbett, Paul 0-1
Alphaeus plays his favourite Samisch Attack against Nimzo-Indian, but Paul is well prepared and strikes early in the Centre with 9…,d5! Exposing White's lagging development and uncastled K. White sacrifices the exchange with 24.Rg5 but this hardly slows Black's attack; better is 24.Bxf4 Nxf4 but Black is winning. Paul chooses to return the exchange & win 2 pawns with a neat manoeuvre Nd3-f4-e2-c3-a2. With 37…Qxb3 Black wins a piece and White could resign but Alphaeus likes to play to mate.
A beautiful game by Paul against a strong opponent.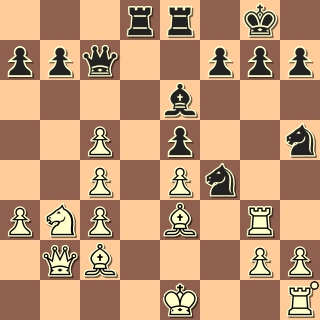 Fan, Allen – Zhang, Jasmine 0-1
Jasmine equalizes readily enough against Allen's quiet English Opening. But here careless 10…Nf6 (essential is 10…Nc7) allows the White d pawn to roll forward protected by Bg2. Already by 20.Qd2 Black is lost as there is no defense to White's d6/Bh3. However, 20…,Qd7 collapses immediately as after the straightforward 21.Bxf6, White has a winning attack.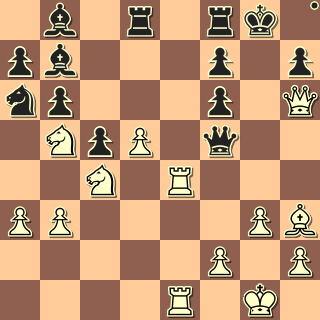 Goodhue, Nathan – Macdonald, Paul 1-0
Paul plays the most aggressive line against Nathan's English – a kind of accelerated Dutch e5/f5/d6. The system is sound but needs careful handling as already weak squares d5/f5 can be exacerbated by further pawn moves. Indeed I would not play Paul's 10…,g5?! before completing development with Nbd7/Rad8 etc. Black's 13…,b5? is against the logic of the position: Black opens the Q-side where White is stronger; essential is 13…,d5/Nc7 keeping things closed. However, there is no need to drop a piece with 14…,Bd7?
The shortest loss in the A-grade this year.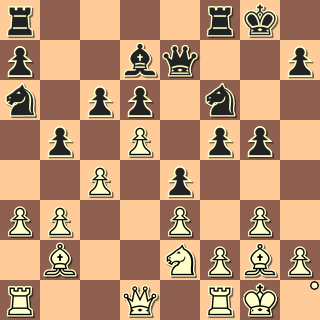 A win by Ben Hague in the final round ensures him of first place of 7.5 points. Bruce Watson and Paul Garbett are second equal on 6.
B Grade
Abraham Deng vs Caroline Yan – Draw
The game quickly bogged down to a stuck position (see diagram) in which niether side could make progress.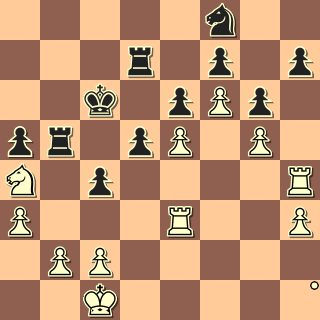 Alex Nagorski vs Simon Lyall 1-0
Black game out of the opening a pawn down and with little compensation. After the players swapped down to a rook and pawn endgame Black gave up another pawn and was lost.
Don Eade vs Felix Xie 0-1
White sacrificed an exchange but got into problems grabbing an extra pawn with 28. Qxb6 (see diagram). Black was after to grab 2 pawns back and after some desperate moves by White failed he resigned.
Euan McDougall vs Tim Ha 0-1
White got a better pawn structure out of the opening and the players swapped down to just 2 rooks and 7 pawns each by move 25. White was able to slowly push his pawns forward (and win a couple of blacks pawns). Black resigned on move 72 as White was about to promote.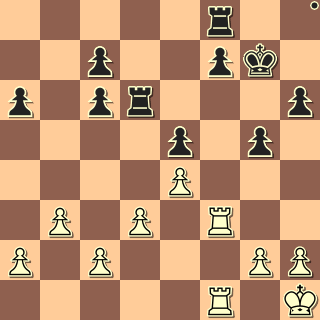 Alex Nagorski won the grade with 6.5 .
Second was Felix Xie on 6.0.
3rd-equal were Simon Lyall, Jordan Lewis and Xinyang Liu.
C Grade
A Quick summary of the top games:
Leader Isabelle Ning got a quick win against Karl Holdo.
Lakshmi Ravi also got a quick win against Stephen peak
Aaron Wang was in a completely lost position against Boyuan Zhang but somehow got a perpetual check to draw.
Anya Thurner and Svott Treanor took an early draw.

Upsets in Round 9

Grayson Po'e-Tofaeono beat Philbert Zhai
Yolanda Chang beat Virginia Milne
Eric Fan beat Mike Steiner
Tyleah Po'e-Tofaeono beat John Liu
Wayne Mcdougall beat Andrew Michael
Winner of the C Grade was Isabelle Ning with 7.5 points.
2nd was Lakshmi Ravi on 7 points
3rd was Boyuan Zhang on 6.5 points.