Please make sure you sign up for the Autumn Rapid starting on April 1st. Signup sheets are at the club or contact Simon.
Draw: A, B, C (round-robin schedule)
Vega Links: A Grade , B Grade , C Grade , D Grade

PGN for Round 5 by Ewen Green
A Grade

Nigel Metge vs Nathan Goodhue – Blacks position got constricted early but he often plays these positions. After 5 0 moves of back and forth Black was up a pawn but game was constricted by a lareg pawns mass in the centre. However around move 60 White invaded on the 8th ranks with his rooks and picked up an exchange. He then swapped all the pieces into a winning endgame. 1-0

Daniel Gong vs Alex Huang – Black was even to better until he moved a Night to the sideline and was unable to counter White's threats. 1-0

Alphaeus Ang vs Allen Fan – 14 moves of theory and then White got a lot of pressure and managed to pick up two pawns. After a swapoff some endgame care was needed but he managed it. 1-0

Michael Steadman vs Alexei Kulashko – White resigned after he made an error which allowed Black a much better position. 0-1

Daniel Gong and Alexei Kulashko lead the grade on 3.5. However Alexei has a game in Hand
B Grade

Simon Lyall vs Caroline Yan – A fairly even game with Black a little better for most of it. The players swapped down to an opposite color bishop endgame but White was unable to hold it and Black broke though. 0-1

Alex Nagorski vs Jasmine Zhang – Black made an error in the opening ( see diagram ) but White missed the complicated followup. They then got in a complicated position which the computer says Black is winning but after some back and forth White came out ahead. 1-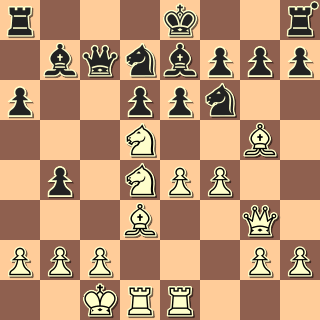 Euan McDougall vs Paul Macdonald – See Paul's full analysis in the PGN. White made several inaccuracies soon after the opening and then missed a tactic that allowed Black to win a piece.

Clinton Wells vs Don Eade – Black miscalculated a series of swaps and white was 2 pawns ahead. He was then able to swap steadily and win the endgame. 1-0

Alex Nagorski leads the grade with 4 points.
C Grade

Jordan Lewis vs Karl Holdo – White was better for most of the game and then was able to pick up a pawn and force though a passed-pawn. 1-0

Tim Ha vs Akshay Sharma – Black picked up a pawn in but it wasn't enough and the players settled for a draw.

Felix Xie vs Aaron Wang – An even game until White made an error and allowed Black to pick up a piece. 0-1

Despite his loss this round Felix Xei still leads the grade.
D Grade

Philli Park-Tamati vs Jeffrey Yu – White pressed an attack but black held it and launched a strong attack himself. They players agreed on a draw in what the computer says is completly won position for Black. Draw

Upsets in Round 5

Jacob Chai beat Dario Giuliani
Lucas Xiao beat Mike Steiner
Jack Chen beat Erica Hu
Ethan Liu beat Jacob Yuan

Philli Park-Tamati and Jeffrey Yu still lead the grade but there are 5 players just half a point behind them.