The Winter Cup is a Swiss tournament played across 7 rounds in August and September. There are two Swiss Grades of around 43 players each, the split is roughly at the 1500 NZCF July 2019 rating.
A Grade
Michael Steadman vs Alphaeus Ang – White got a good position out of the opening with Black very cramped. White lost momentium for a few moves but managed to swap to a better position.Black tried a dogged defence but eventually White took all his pieces. 1-0
Bruce Watson vs Allen Fan – White found a tactic that left him two pawns up. He was able to quickly convert that to a passed pawn. 1-0
Jasmine Zhang vs John Duneas – Black did a Kingside pawn push and forced White to give up the exchange. But White was able to swap off the attacking pieces and pick up two pawns. Black was able to just manage a draw.

Nigel Metge vs Jordan Lewis – White aggressively pushed in the centre and nearly got in trouble with his King exposed. Black then picked up a piece and While White gained it back White was still down 2 pawns. The players agreed on a draw with a rook each and Black one pawn ahead. Draw

Simon Lyall vs Clinton Wells – Black played into a new opening (for him) and used a lot of time feeling his way. White got into a good position but then blundered 2 pieces and a pawn for a rook. White was lucky to find the one line that kept the position equal and then Black made a couple of mistakes due to time pressure. 1-0
Boyuan Zhang vs Felix Xie – White got off to a good start but made a series of small mistakes which allow Black to win. 0-1
Isabelle Ning vs Tim Ha – Black gave up a piece for an attack by opening up the G-file in front of the king. White was able to just get her pieces back to defend and after White's Black's was trapped white was able to smoothly win.
Paul Macdonald vs Grant Burrows – See Paul's annotations in the game. Black cut short his tactical calculations and played a line that he hadn't fully calculated. He resigned after losing a piece. 1-0
Gordon Morrell vs Jeffrey Yu – Black allowed a cute mate which White found. (see diagram) 1-0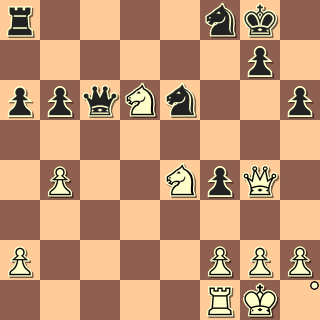 Daniel Runcan vs Kenny Zhang – White pushed forward his Kingside pawns early but ended up with uncoordinated and cramped pieces while Black was able to win with a Queenside pawn push. 0-1

Euan McDougall vs Don Eade – Black allowed a tactic that gave White a couple of pieces. 1-0

Alex Nagorski vs Stephen Peak – Black got a several pieces trapped in his Queenside corner while White attacked the Kingside. 1-0
Aaron Wang vs Yolanda Chang – White got a Knight on the 6th and then picked up a pawn and a rook for it. Black resigned in the face of losing another piece or two. 1-0

Karl Holdo vs Andrew Michael – A few even game with chances for both players. Black got a winning endgame (Knight and two pawns vs Knight) but made a couple of mistakes and the game was drawn.

Lakshmi Ravi vs Ajit Pendharkar – Black pushed hard on the Queenside against White's king which allowed White to get a mating attack on the Kingside. 1-0
Winston Weng vs Abraham Deng – After an even game Black miscalculated in the endgame and lost. 1-0
Upsets in A Grade round 4

Kenny Zhang beat Daniel Runcan
Isabelle Ning beat Tim Ha
Simon Lyall beat Clinton Wells

Michael Steadman leads the Grade on 4 points. Bruce Watson is 2nd on 3.5 while several players are on 3.
B Grade
Upset in B Grade Round 4
Bevis Jiang beat John Liu
Hunter Po'e-Tofaeono drew with Philbert Zhai

A Sriram and Neil Sonnekus lead on 4 points. Grayson Po'e-Tofaeono is 3rd on 3.5