A couple of reminders

First that Monday Chess will be running during the school holidays. Please Tell Simon if you or your child is going to miss evenings.
Second a reminder that the Spring Rapid will be on October 7th and 14th. Please signup on the sheet at the Club.
Winter Cup Vega Links: A Grade , B Grade

Round 5 PGN by Ewen Green
A Grade
Bruce Watson vs Michael Steadman – White went much better picking up an exchange and getting into what looked like a winning endgame. However Black was able to hold the position and a draw was agreed.

Alphaeus Ang vs Simon Lyall – A couple of bad moves left Black worse off and White was able to easily convert. 1-0
Felix Xie vs Gordon Morrell – White lost a piece but managed to trap one of White's rooks on the side of the board so the position was closer to even. Black was unable to find how to break out of the position and agreed on a draw.

Philli Park-Tamati vs Nathan Goodhue – White resigned after Black gained the upper hand. 1-0
Kenny Zhang vs Paul Macdonald – The first 14 movies followed a game by regular visitor to New Zealand IM Herman Van Riemsdijk. Black got the best of the game advancing Kingside pawns and creating a semi-open F-file. But Black dropepd a pawn and White was able to exchange pieces and lock up the position. Draw
Jordan Lewis vs Isabelle Ning – Default win for Black. 0-1
Clinton Wells vs Nigel Metge – Lots of exciting tactical tricks and swings in this game. In the endgame White was winning but missed the best lines and the game was drawn.

Allen Fan vs Lakshmi Ravi – Black resigned after White picked up a free rook. 1-0

Grant Burrows vs Alex Nagorski – Black was goign well and three pawns up when he unfortuntely allowed a mate. 1-0

Thomas Zheng vs Euan McDougall – White made some errors and lost a couple of pieces. 0-1

Tim Ha vs Arkadi Polyakevich – White was better most of the time but the game was mainly a steady series of swaps to a draw.

Erwin Koestanto vs Aaron Wang – White had a better game and got in a winning position. However he sacrificed a Queen thinking he would be able to quickly promote and get it back. Black however had a Queen move which had too many threats and was able to give up give up his queen for two pieces and a winning endgame. 0-1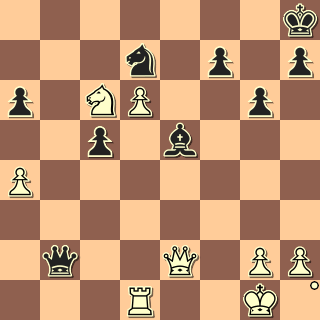 Jeffrey Yu vs Daniel Runcan – White was a little better for most of the game but gave up a couple of pawns. Black was able to push though his passed a&b pawns for a win. 0-1

Andrew Michael vs Don Eade – Black left a pawn en-pris which allowed White to win it and then attack winning another. White was able to hold off the attack but once pieces had been swapped Black was still better. Black resigned with one piece trapped and due to be lost. 1-0

Virginia Milne vs Karl Holdo – White lost a couple of pieces. 0-1

Ajit Pendharkar vs Jack Chen – white sacrificed a piece for two pawns and an attack but once it faltered he was just a piece down. 0-1

Scott Treanor vs Stephen Peak – Black played a weak opening line and allowed White to quickly develop. White then found some good tactics, winning a pawn, then an exchange and finally another 2 pawns. 1-0

Hugh Gao vs Yolanda Chang – After looking good for most of the game Black made a mistake and lost a piece. 0-1
Upsets in A Grade round 5

Grant Burrows beat Alex Nagorski (594 point ratign difference)
Aaron Wang beat Erwin Koestanto
Kenny Zhang drew with Paul Macdonald
Andrew Michael beat Don Eade
Yolanda Chang beat Hugh Gao

Mike Steadman keeps his first place. Bruce Watson and Alphaeus Ang are have a point behind.
B Grade
Upsets in B Grade Round 5
Daksh Bhatt beat John Liu ( 757 point rating difference )
Hunter Po'e-Tofaeono beat Eric Fan
A Sriram is still undefeated on 5 points. He is a point ahead of Neil Sonnekus, Wayne McDougall and Mike Steaner.