A reminder that the Monday Night Club will be running during the school Holidays. Please let Simon know if you are missing nights.

Registration has started for the Spring Rapid and the Spring Cup. Please make sure you sign up for these soon if you want to play. Vega links: Spring Rapid , Spring Cup A , Spring Cup B
Winter Cup Vega Links: A Grade , B Grade

Winter Cup R6 PGN by Ewen Green
A Grade Round 6
Michael Steadman vs Felix Xie – An aggressive opening with both players attacking on the Kingside. Black looked better but grabbed a pawn which allowed White to swap down to equality. But White handled the endgame better and won. 1-0

John Duneas vs Alphaeus Ang – Black picked up a pawn in the middle-game and was able to dominate the endgame with a 3 to 1 pawn advantage on the Queenside. 0-1

Nathan Goodhue vs Isabelle Ning – Black gave up a Bishop for White's g*h pawns and an attack. White qucikly stopped the attack and was able to use his extra piece to pick up more material and win. 1-0

Euan McDougall vs Allen Fan – White did a Kingside pawn push that partially trapped two of Black's pieces. WWith these out of the way he was able to harass Black's King and eventually pick up pick up a piece. 1-0

Gordon Morrell vs Kenny Zhang – Black got lost in the opening giving White a good start. White over-pressed an attack which gave Black enough time to make his own attack which could probably have been a perpetual check. But then Black gave up a piece allowing White to escape. But then White went the wrong way allowing Black a unexpected win!. 0-1

Nigel Metge vs Grant Burrows – White played an aggressive opening and gave up a piece for two pawns and a huge lead in development. He created a series of threats and Black failed to defend against them all. 1-0

Simon Lyall vs Tim Ha – White pushed his g-pawn against Black's King and exposed Black's King. He managed to maintain an attack and the balance of errors by both sides favoured the attacker. 1-0
Daniel Runcan vs Boyuan Zhang – White opened up the g-file in front of Black's king and Black's position quickly collasped. 1-0
Joe Wang vs Clinton Wells – A fairly even game with both players ahead at times. Eventually perpetual check and a draw.

Jordan Lewis vs Andrew Michael – White made an error and Black picked up material with a tactic. 0-1

Arkadi Polyakevich vs Philli Park-Tamati – The obscure England Gambit from Black ( 1.d4 e5 2. dxe5 Nc6 ). White was ahead most of the game but got a Bishops trapped in the corner and then lost an exchange (and then a pawn). 0-1

Karl Holdo vs Alex Nagorski – A very even game with no player gaining much advantage as pieces were steadily swapped. Draw

Jack Chen vs Wintson Weng – White went into a bad opening line which lost him a pawn and left his king stuck in the centre. But after some swaps Black was underdeveloped and White was the one with the chances. The game eventually swapped to a draw.

Yolanda Chang vs Scott Treanor – Black picked up a piece and was looking good but allowed White win it back. Black then tried some desperation tactics but White was able to find the correct responses. 1-0

Lakshmi Ravi vs Thomas Zheng – Black left his castled King completely open to attack while all his pieces were on the Queen-side (with a line of pawns in-between), See diagram. 1-0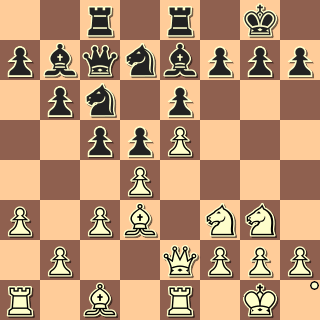 Jeffrey Yu vs Erwin Koestanto – White went well at the start but after swaps to the endgame he was outplayed by Blacks two-bishops to Whites Bishops+Knight. 0-1

Don Eade vs Virginia Milne – White slowly built up pressure in the centre and got luckly with a tactic. Black tried some tricks to get it back but was left a piece down with a difficult position. 1-0

Stephen Peak vs Ajit Pendharkar – White got a pawn up then greedily grabbed a second pawn. Black missed the best move (see diagram) and things swung back towards White. Black gave up a piece a few moves later for a mating line, but the actual winning line was 11+ moves long and hard to find and White escaped. 1-0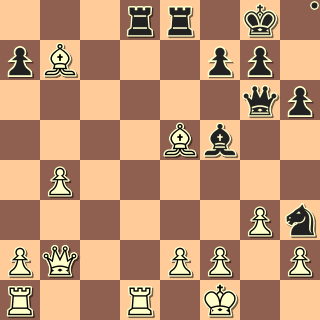 Abraham Deng vs Hugh Gao – Lots of swaps and an early draw.
Upsets in A Grade Round 6
Kenny Zhang beat Gordon Morrell ( 575 pt different)
Euan McDougall beat Allen Fan ( 365 pts apart)
Karl Holdo drew with Alex Nagorski
Andrew Michael beat Jordan Lewis
Mike Steadman continues to lead the Grade with 5.5 . Second is Alphaeus Ang on 5 while Bruce Watson and Nathan Goodhue are 3rd-equal on 4.5.
B Grade round 6
Mike Steiner vs A Sriram – An Early draw with White looking better. Draw
Lucas Xiao vs Wayne McDougall – A passive start from White in the opening. White then miscalculated to allow Black to pick up two pawns and then Black picked up two more(!) as he swapped down the pieces. 0-1
Neil Sonnekus vs Jacob Chai – After some dubious opening play Black push his Kingside pawns against White's King. However he opened up a hole and allowed White to infiltrate and pick up a couple of pawns. A couple of moves later Black blundered a rook. 1-0

Tyleah Po'e-Tofaeono vs Alen Leach – White left a hole in he position and allowed White to infiltrate and pick up a pawn. Then Black got an exchange and two pawns via a tactic. 0-1

Grayson Po'e-Tofaeono vs Vincent Cai – White lost a Night when he tried a speculative attack against Blacks King and it got trapped. Black was then winning until he left his King just a little exposed and was mated out of nowhere. 1-0
Upsets in B Grade Round 6

Hunter Po'e-Tofaeono beat Michael Ma
Grayson Po'e-Tofaeono beat Vincent Cai
Eden Oshri beat Renier Lategen
A Sriram continues to lead B Grade on 5.5 points. Second Equal are Neil Sonnekus and Wayne McDougall on 5 points.