The Spring Rapid will be starting on August 29th. It will be 6 rounds across 2 nights. See the Vega page for entries so far. If you want to play then enter on the sheet at the club, email or txt before the tournament starts.
Over the weekend there was the 1st round of the B Grade Interclub. Unfortunately we didn't get off to a good start losing 5.5 to 0.5 to Papatoetoe.
The 2016 Chess Olympiad will beheld in Early September. Club Players representing New Zealand will be Alexei Kulashko and Ben Hague in the Open Team and Jasmine Zhang and Kate Song in the Women's team.
We had a visit and demonstration from the designers of the chesslike boardgame Four Kings One War to the club. Tim Ha took the following photo and posted some more on Facebook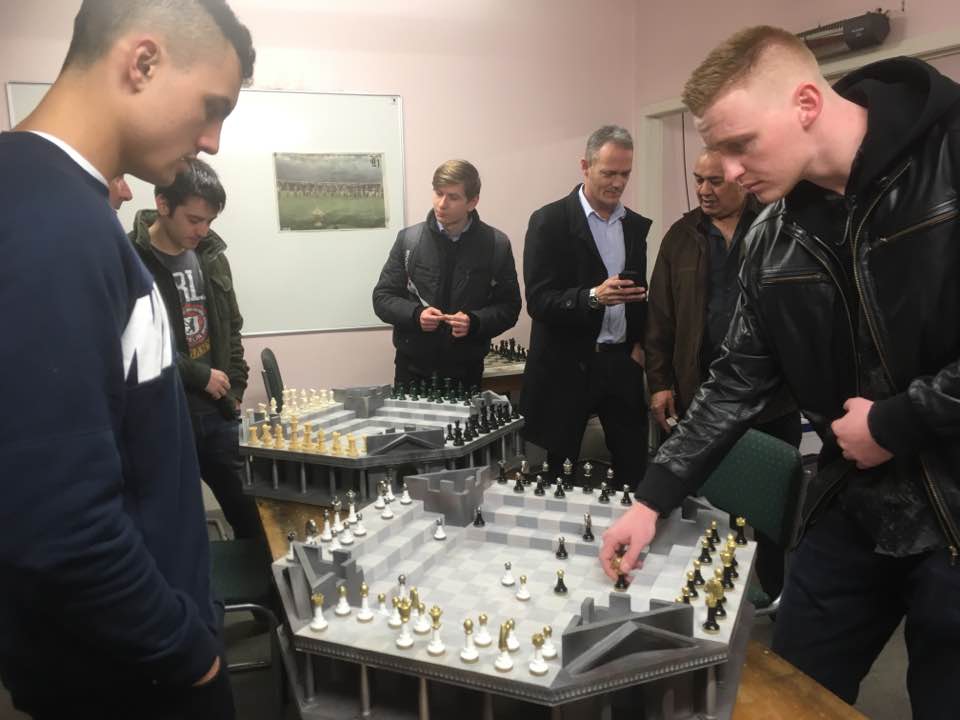 Results from Round 8

Round 8 PGN file from Alex Nagorski
There is only one round left in all grades (plus a couple of catchup games)
A Grade
Ben and Alexei played an uncommon Sicilian sideline and after a fairly even game swapped most pieces and drew
John and Bruce also swapped down to a draw.
Mike Steadman managed a novelty on move 3(!) of the Sicialian ( 1. e4 c5 2. Nc3 g6 3. g3 b4?! ) against Nathan Goodhue. However Nathan ignored the free pawn. The game ended fairly abruptly with an agreed draw.
Gino and Daniel also agreed on a draw in the middle game.
The only Win in A grade was a nice game by Alphaeus Ang against Gordon Morrell which saw Gordon on the backfoot thoughout the middle game and losing on time trying to hold two rooks vs a Queen.
Bruce Watson leads Alexei by half a point going into the last round . Alexei has taken a draw for the last round so a Win or Draw by Bruce against Nathan will see him as the Club Champ.
B Grade
A blunder saw Allen win Jasmine's Queen
Richard Taylor and Alex Nagorski had a very sharp tactical game that Alex won.
Simon and Keith had a fairly even game until Simon lost a pawn and tried a exchange sacrifice after failing to find the best lines.
Paul MacDonald provided a pgn with his analysis of his win against Tim Ha
With one round to go Allen Fan has already won being 1.5 points ahead of Paul MacDonald and Keith Ward. Although there are a couple of unplayed games
C Grade
Only two games played
Nicole Qin came out behind after a mid-game piece swap
After getting a winning advantage Hilton Jacobs couldn't find how to break though in the endgame and made a series of mistakes that enabled Rodney Li to win.
The loss leaves Hilton half a point ahead of Pouya Seifi but Pouya will get a 1 point bye in the last round.
D Grade
Eric Wu and Temu  Maroroa both lost their games so things are open with 3 players on 6 points and two on 5.5 going into the last round.
The Vega website for the tournament is
Links to the Schedule for A,B and C grade are on the 2016 Tournaments page.
As of Wednesday Night byes for Round 8 in D Grade:
If you are unable to play please contact Simon Lyall either via text (021 575 233) or email to contact @ aucklandchess.nz . Normally you will get a half point bye. Please let us know as early as possible.
The draft draw for D grade is below. Please remember that this may change if there are additional byes