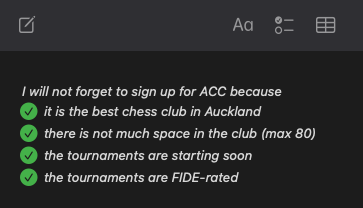 Please use the following form to sign up for ACC membership in 2022 (payment information will be provided later at the club)
https://forms.gle/85L3dn1NwyJsra2h6
Previous form, now closed – https://forms.gle/kvSFPXwwDkW5Rg2g7
We start on May 2 with a FIDE-rated blitz (3'+2″) tournament of 9 rounds.
From May 9 to June 20 (with the exception of Queen's birthday) we will hold the Autumn Cup, a classical chess tournament with a time control of 75'+30″. There will be two grades, most probably the cut-off rating will be 1400 FIDE.
In the form for sign-up, you can specify if you will play the blitz or both, or will join a later tournament instead. The full list of tournaments is on the Calendar page.
If you're new to the club, make sure you fill out all details very carefully, as we'll use that information to register you with NZCF and FIDE for rating purposes. If you're a regular member, you can trust that the captain remembers you well 🙂 However, please make sure you enter the most up-to-date email and mobile phone numbers.
Thanks!