The Spring Cup was the last main competition of 2019. It was 2 7-round Swiss grades with about 42 players in each grade.
Spring Cup Round 7 PGN by Ewen Green
A Grade
Mike Steadman vs Alphaeus Ang – White picked up a free pawn in the opening and kept his advantage for the rest of the game. 1-0

Nigel Metge vs Daniel Runcan – White made a mistake in the opening to give Black a led and then White gave up a piece. 0-1

Felix Xie vs Bruce Watson – Black got a better opening and White tried giving up an exchange to generate counter-play. Black was still better and was able to get two passed pawns. Black then gave up a piece to draw away White's pieces and then pushed though his passed pawn to the 8th rank. 0-1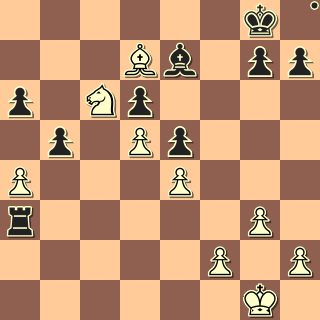 John Duneas vs Philli Park-Tamati – Black resigned for some reason in an even position. I think he believed he'd made a blunder and was lost. 1-0

Don Eade vs Paul Macdonald – Black lost a piece and resigned in the face of losing another. 1-0

Paul Garbett vs Scott Treanor – Black played a dubious opening line and was quickly under attack. 1-0

Jasmine Zhang vs Simon Lyall – White got the better of the early game but after some swaps the position was even. Black then managed to create a passed pawn with an extra pawn and one of White's pieces was stuck on the wrong side of the board.

Alex Nagorski vs Winston Weng – White picked up a pawn early but Black got it back and by move 28 they just had a rook and some pawns each. White picked up a pawn but it wasn't enough for a win. Draw

Daqi Mao vs Tim Ha – An even opening with Black deviating from standard lines but White was not able to find the best reply. Which tried some tricks but they backfired and he was left a piece down. 0-1

Jordan Lewis vs Aaron Wang – After a even game they players swapped to a King and pawn endgame that was wining for Black. 0-1

Hao Tang vs Jeffrey Yu – Black lost and exchange and then his position fell apart. 1-0

Abraham Deng vs Karl Holdo – Steady swaps until White made a mistake and Black picked up a pawn. Black threw away his lead and settled for a repetition. Draw

Kenny Zhang vs Grant Burrows – Black got away with an offbeat line thta left White with a very bad pawn structure. The game swapped to an endgame but Black made a fatal pawn push. 1-0

Lakshmi Ravi vs Rauen Le Grange – Black exposed his position to Bxh7 and almost lost quickly but came out "just" and exchange down. Black tried some tactics but White had little trouble. 1-0

Isabelle Ning vs Yolanda Chang – White got a better position out of the opening. Black was tied up and on the defensive but managed to wriggle out. After some swaps the position was even but unbalanced. White was able to prevail. 1-0

Arkadi Polyakevich vs Anya Thurner – A lot of back and forth. Black went into the endgame a little better but made a couple of mistakes and White was able to win. 1-0
Upsets in A Grade Round 7

Simon Lyall beat Jasmine Zhang
Don Eade beat Paul Macdonald
Winston Weng drew with Alex Nagorski
Aaron Wang beat Jordan Lewis
Final Result Spring Cup A Grade

1st Mike Steadman 6.0
2nd Daniel Runcan 5.5
3rd= Ben Hague, John Duneas, Alphaeus Ang, Bruce Watson, Don Eade 5.0
B Grade
Lucas Xiao vs David Zhu – A steady swap of pieces and a draw agreed in an even position. Draw

Tracey Tang vs Mukammad Razzaq – Black made a strong pawn push (supported by pieces) against Black's castled King which Black was unable to defend. 0-1

Mike Steiner vs Alan Leach – Steady piece swapped into a draw.
Upsets in B-Grade Round 7

Anas Al-Afaghani beat John Liu
Bevis Jiang beat Philbert Zhai
Hunter Po'e-Tofaeono drew with Wayne McDougall
Final Results Spring Cup B Grade

1st Mukammad Razzaq 5.5
2nd= Thomas Zhang, Lucas Xiao, David Zhu 5.0